Our full range of finishing capabilities include our EZ Release Industrial Coatings which can be produced in a wide variety of surface finishes/profiles to meet your specific release or traction release requirements.
Our EZ Release Series Coatings
DESIGNED TO MEET A WIDE RANGE OF INDUSTRY NEEDS
---
With over 60 years of experience, our team has the expertise and commitment to excellence to meet an array of industrial requirements and help you determine the optimal finish for your application. Learn all about our various EZ Release Industrial Coatings below and then contact us to discuss your application's specific needs. We are confident that we can provide you with a surface that meets or exceeds your expectations, bringing incremental value to your organization on an ongoing basis.
Paper Mill Grade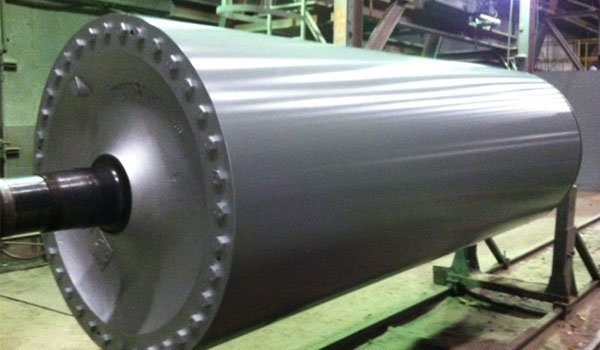 Our EZ Release MP1000 Series is an excellent choice for dryer drums and film casting applications. Contact us so that we may help you determine if this finish is right for your application. Below are the specifications of this paper mill grade coating.
Pure Flouropolymer Coating melts and flows during curing to provide a non-porous film.
Excellent thermal conductivity due to thin film builds of less than 1.5 mils directly over chrome.
Excellent nonstick properties, chemical resistance and low friction.
Suitable for continuous in use temperatures up to 400°F, intermittent to 450°F
Specification Guide
---
| Property | Non-Stick | Chemical Resistance | Abrasion Resistance | Salt Spray Resistance | In Use Temperature* | FDA Approved | Color |
| --- | --- | --- | --- | --- | --- | --- | --- |
| MP1000 | Excellent | Excellent | Good | Excellent | 400-450°F | | Grey |
| MP2000 | Very Good | Excellent | Very Good | Excellent | 500-550°F | | Black (sparkle) |
| MP3000 | Very Good | Excellent | Best | Excellent | 500-550°F | | Grey (sparkle) |
| MP4000 | Very Good | Excellent | Very Good | Excellent | 500-550°F | | Red (sparkle) |
| MP5000 | Excellent | Excellent | Good | Excellent | 400-450°F | | Pewter |
| MP6000 | Excellent | Excellent | Good | Excellent | 400-450°F | | Green |
| MP7000 | Excellent | Good | Fair | Fair | 550-600°F | | Green |
| MP8000 | Excellent | Excellent | Good | Excellent | 400-450°F | | Black |