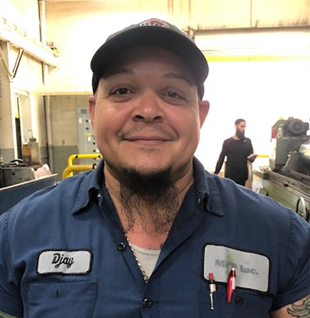 This month we are honored to announce our candidate for the Employee's Spotlight. Dave Medina, better known as DJay, is highlighted for the outstanding work he does. DJay started working at MPP on August of 2012.
DJay is responsible for OD grinding on rolls and specializes in grinding high tolerances on bearing seats.  When TIR needs to be in the millionths, DJay is the person we go to.  In addition to his expertise in grinding high tolerances he also supports our company's growing body of knowledge by testing new grinding media to make process improvements.
DJay has also taken on the responsibility of training new OD grinders. With his attention to detail, well-rounded experience and patience, he typically has new grinders grinding rolls on their own within three months of starting work. DJay is truly a team player who understands the value of satisfying our customers by the quality of his work, and his commitment to sharing his expertise where needed. He leads by example, striving to improve on productivity, performance, knowledge, and abilities.  DJay also worked as a CNC set-up operator and a Swiss Automatic Screw Machine operator. He earned the State of CT Certified Swiss Automatic Screw Machine Operator certificate in June 2005. He is the proud father of two young ladies.
Congratulations, DJay! You have set an outstanding example for your co-workers throughout the Department of OD Grinding.