When it comes to finishing industrial rolls for manufacturing production, accuracy in precision is the key factor. Both precise diameter sizes and concentrically make the difference in producing a high-quality finished product.
Very stringent specifications are required to produce the highest quality. Industrial rolls are at work in numerous industries such as:
Textiles
Steel
Paper
Film
Rubber
At MP&P when we produce roll grinding services the benefits include:
Shorter done time for your business.
Uniform surface finishes
Tight tolerances
Lowered maintenance cost
Increased productivity
True-up rollers
Renew concentricity
MP&P can grind rolls to surface finishes of 2 Ra and tolerances of 50 millionths TIR (Total Indicator Runout) and shape. That means that the MP&P refinished roll will operate as well (or better) than the original roll once it is back in operation at your facility.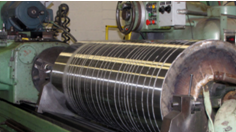 When your roll arrives, we perform an extensive inspection. Over decades of handling just about every type of roll grinding challenge, our team brings tremendous confidence in meeting the challenge. Our experience allows us to understand required roll grinding process demands set before us. What's more, we maintain a library of sorts with records of what work we have done for you in the past. This helps us to be totally "familiar" with your rolls when they come to us. That is extremely important because each customer, even if they are in the same industry, is unique in terms of what their rolls need. The value to you of having this kind of historical detail allows us to make determinations on your behalf that would otherwise be impossible. Contact our team today to discuss the challenge you may be facing with your rolls.