Roll Grinding
Rolls are at work in many industries such as, steel, paper, textiles and so on. In each industry unique requirements and specifications are required. There are many considerations that MP&P addresses when it comes to roll grinding.
Grinding roll of various lengths.
Maintaining the correct curve on the surface of the roll.
Mandatory high finish.
Assuring tight tolerances so rolls function at high efficiency.
Proper roll grinding to allow rolls to operate over long time frames.
Rolls are rounder.
Roll grinding to tighter tolerances.
Resulting in roll that run longer at higher speeds.
Our people in precision the roll grinding department consistently produce better results than the OEM. The MP&P team doesn't think in terms of roll grinding as a repair, but as a Roll-Life-Performance issue. The last thing you want is to put production on halt because of poor roll grinding. In business, most of the convincing undertaken to make a purchase focuses on the sale.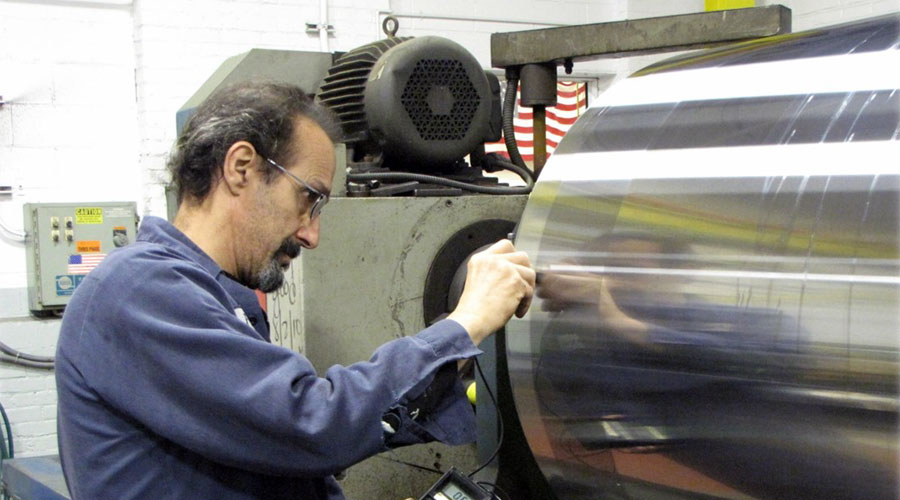 We focus on the sale after it's made because that's where the proof of the quality and expertise of roll grinding makes all the difference and builds long-term customer relationships. The point is that roll grinding allows a longer production time and that increases the customer's productivity which translates to profitable business and significant savings as opposed to re-grinding in short time cycles.
After all, it's not about roll grinding, it's about the performance that roll grinding achieves.